---
<!MIDDLE COLUMN BEGINS>
PAVING STONES / FLAGSTONES PAVERS
- Light Grey Pavers

Zara Grey sandstone paver is made up of grey shades. Suited to traditional and contemporary landscape designs and is a hard wearing natural stone which requires minimal maintenance.

- Dark Grey Pavers

Zara Slate Grey sandstone paver is made up of dark grey shades. Suited for endless designing, it adds another dimension and compliments your planting / patio area.

- Light Brown Pavers

Zara Desert Brown sandstone paver is made up of an even light brown shades which give a cool timeless and natural look.

- Dark Brown Pavers

Zara Brown sandstone paver is made up of light and dark brown tones. Suited to traditional landscapes designs and is a hard wearing natural stone which requires minimal maintenance.

- Light Shades Pavers

Zara Lavender sandstone paver is made up of soft lighter shades with slight variations for a sophisticated ambiance. Suited to traditional landscape designs, its colorful blend will enhance the beauty of any project.

- Dark Shades Pavers

Zara Bronte sandstone paver is made up of a rich blend of fawn colouring with stunning naturally occuring swirls.

- Shades of Beige, Grey & Brown Pavers

Zara Flint sandstone paver is made up of light brown with slight variation in color. Suited to many landscaping applications.

- Light Cream to Dark Green with Fossil Imprint Pavers

Zara Fossil sandstone paver is made up of predominantly buff and mint with a mixture of yellow and sienna. This is enhanced with a scattering of leaf prints on some stones to create a unique fossil effect.

- Light Cream, Off White Pavers

Zara White Mint sandstone paver is made up of a beautiful off white color variation whilst maintaining a blended appearance. Suitable for many applications especially pool surrounds.

- Beige Pavers

Zara Beige sandstone paver made up of light peachy beige color. Creates an appealing design and lustrous look.

- Dark Grey & Black Pavers

Zara Imperial Black sandstone paver is made up of natural black with shades of grey and yellow at the edges. Extensively popular and suited for large landscaping projects.

- Yellow, Gray, Green Pavers

Zara Buff limestone paver is made up of hints of yellow, gray and green colors. Suited for the most natural landscapes, enjoy the timeless style right at your home.

- Black Pavers

Zara Kota Black limestone paver predominatly made up of black with subtle undertones of blue. With time fades, can add modern finish to your landscaping project.

- Grey Pavers

Zara Silver Grey limestone paver made up of vibrant shades of grey and white undertones. The excellent density and smooth feel enhance the classic and sophisticated look. Is becoming one of our most popular collections with it's smooth appearance and consistent colour.

- Brown Pavers

Zara Bronze limestone paver made up brown shades. Very desirable and thoroughly interesting, it provides a fascinating talking point when barbequing with friends.

- Grey Pavers

Zara Silver Valley granite paver made up of vibrant shades of grey and white undertones. Is becoming one of our most popular collections due to its similarities to silver valley limestone, only better with added non-slip qualities.

- Black Pavers

Zara Jet Black granite paver made up of vibrant shades of black, grey and white undertones. A high end granite paver yet very affordable. Is becoming one of our most popular collections.

Looking for Something, But Can't find it on this Page. Contact Us and We'll Do Our Best to Source It for You.

<!MIDDLE COLUMN ENDS>
ZARA GREY PAVING STONES
Light grey consistent color
Very good color consistency
Very good color consistency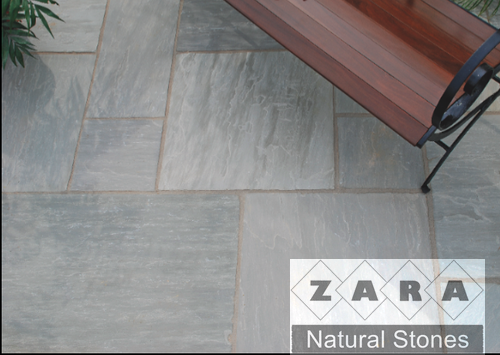 Natural Surface with Edges Machine Cut (Sawn)
Mix of Grey / Slate Grey Combination
Natural Surface with Square Cut Edges
Wet Surface with Square Cut Edges
Grey Patio Pavers
Grey Surface with Square Cut Edges
SPECIFICATIONS:
Zara Grey paving stone is very popular among Indian Sandstone in Canada due to its blend of grey tones. This Light Grey Indian Sandstone is an extremely hard sandstone, thus durable and beautiful to watch. It has a solid modern feel and looks simply stunning laid around a pool. The colors of this gray natural stone paver is very consistent with some minor shades of darker gray that gives a cool even silvery grey contemporary look. Zara Grey Sandstone is very versatile, tough and robust in nature and so can be used for flooring both indoor and outdoor area, on terrace or outside area of the house like gardening area, pathways or pool side. When used indoors, it makes the room look elegant and gives timeless style. Zara Grey natural Indian sandstone paving became popular due to its durability, strength, beauty and is ideal for use on patios, front porch, sidewalks, paths and driveways.

Sizes (approx lenght x width x thickness):
300 x 600 x 25 mm, 450 x 600 x 25 mm, 600 x 600 x 25 mm & 900 x 600 x 25 mm /
1' x 2', 1.5' x 2', 2' x 2', 3' x 2' / 12" x 24", 18" x 24", 24" x 24", 36" x 24".

Surface Finish: Top Natural, Bottom Calibrated (Gauged)

Edge Finish: Square Cut, Machine Cut, Sawn Cut, Hand Cut, Rockface.

A fifty seven piece patio kit with four to fives sizes for random laying pattern is available upon request. Thickness of this paving stone also available in 30mm / 1.25", 25mm / 1" and less.

---
All Contents &copy 2013 Zara Natural Stones Inc.